THE SMIRKS
Distant Cousins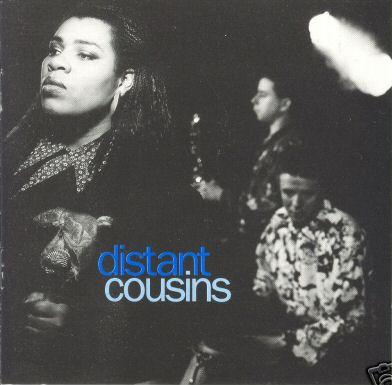 At the end of 1988 and the beginning of 1989, Distant Cousins recorded their debut album. Simon Milner and Neil Fitzpatrick both played on the album and co-wrote some of the songs. Neil produced the album.
Around nine years after the end of The Smirks, it probably doesn't come as too much of a surprise that the music doesn't sound anything like the original band. It's a mellow, smooth, pop/soul sound, not at all what you might have expected if you had just been listening to The Smirks.
Click here for lyrics from this album.
The album was recorded at the Sawmills Studio in Cornwall and at Strawberry Studios in Manchester.
There were a lot of people involved in the album. Obviously not everyone took part in every song:
Neil Fitzpatrick, Guitars, Saxophone, co-producer
Simon Milner, Trumpet
Doreen Edwards, Vocals
Snuff, Drums & Percussion
Stuart James, co-producer
Steve Williams, Bass Guitar
Steve Hopkins, Hammond Organ, Piano, Keyboards
John Metcalfe, String Arrangements, Viola
Lenni, Saxophones, Horn Arrangement
Ian Laing, Trumpet, Flugel Horn
Paul Latham, Trombone
Chris Manos, Congas
Richard Keane, Accordion
Louisa Fuller, Violin
Richard Koster, Violin
Ivan McCready, Cello
Helen Watson, Backing Vocals
Vini Reilly, Guitar
Clive Mellor, Harmonica
DISTANT COUSINS
Sense Of Smell (Edwards/Fitzpatrick)
That's Just Between You And Me (Edwards)
You Used To (Edwards/Fitzpatrick)
I'll Be With You (Edwards/Fitzpatrick)
Everything That I Possess (Edwards/Fitzpatrick)
Write Down That Moment (Edwards/Fitzpatrick)
Boo Hoo Hoo (Edwards)
Touch Me (Milner)
Carry Me Home (Edwards/Fitzpatrick)
Back to Distant Cousins main page
Page last updated by Ian on 20 May 2008