THE SMIRKS
Gig guide
I am very grateful to Mog and Dave J for supplying most of the information below. If you are able to enlarge on this list, I'll be pleased to hear from you.
This used to be a single page containing sketchy information, but thanks to the enormous amount of information sent by band members, staff and fans over the past few months and years, it's now time to spread this information out onto a page for each year.
This list is still incomplete and inaccurate, but improving. Thank you to the fans of the band who have helped me put this all together. It's now November 2006, almost 29 years since the band's first performance as The Smirks, and I have some evidence of 148 concerts at the last count. I know that there are many Smirks fans who are reputed to have seen the band 70 or more times.
A recent correspondent tells me he saw the band twice: "Once was at the Royal Standard in Bradford . This was approx 1978. Later (1979 or 80) I saw them supporting the Albertos at Sunderland Poly. Sorry can't help with any dates." Can you help?
Another correspondent writes: I have remembered 2 more gigs they definitely did, not mentioned in the gig lists on the site - Warrington Carlton Club and Warrington Wilderspool Leisure Centre, not on the same day! I know, I was there. Can anyone remember these?
Details of performances at The Marquee are taken from the 1978 and 1979 pages. This used to suggest that 21st March 1979 was a concert by The Smiths, rather than The Smirks, which contradicted information from Mog. However, as Mog later pointed out, The Smiths as a band didn't form until 1982, so it definitely wasn't them! So I emailed their webmaster, and he's fixed it now...thank you!
Can anyone tell us about the concert in Regent's Park, 30 July 1978?
"One thing you or the others interested may be able to assist me with. I am sure I remember going to see The Smirks supporting The Rubinoos at the Open Air Theatre in Regents Park, London. I can't remember the date but think it was a Sunday night. I think it was promoted by Capital Radio and possibly recorded by them for broadcast. There were a couple of odd things that happened that night - a bomb scare so we had to go out and a crazy hippy guy who danced on his own at the front of the stage. I remember the hippy guy because we used to see him at loads of places doing his crazy dance."
I went to this gig, don't remember the date. Smirks were support to Rubinoos. The did not play OK-UK due to its anti US lyrics!
Were you there? Can you tell us anything else about it?

If by some chance you have any information about concerts or other performances, please mail me at ian @ thesmirks.com - complete lists are particular welcome, of course! If something is wrong, please tell me: if I don't know, I can't fix it.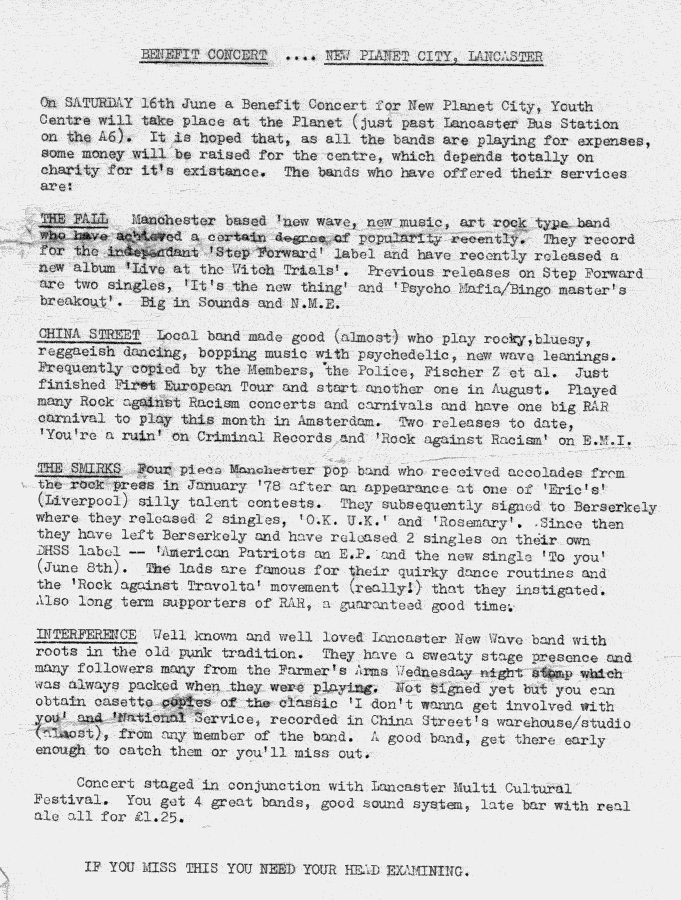 Page last updated by Ian on 23 September 2007