THE SMIRKS
Smirkology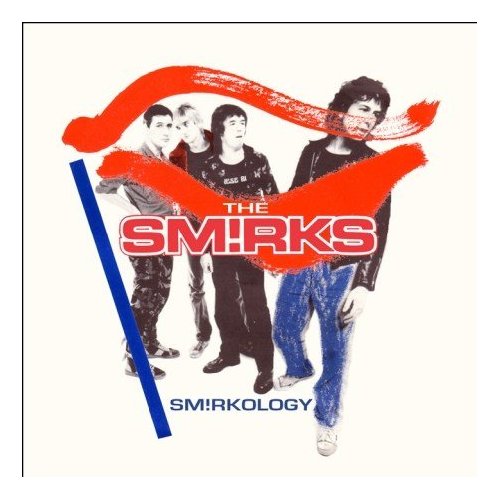 In late 1978, The Smirks went into the studio and recorded what was to have been their first album "Smirkology". Unfortunately, the problems they had with Beserkley Records meant that the album never saw the light of day. The band released the American Patriots EP as a consolation for themselves and their fans, but it was not quite the same.
In 2005, Mog very kindly supplied me with copies of music from the album, and it was put online here in late 2005, and I offer him very many thanks.
Rumours of the impending release of the album continued, and I finally heard confirmation that the album Smirkology
was due to be released at the end of October 2007.
Unfortunately, it has just been announced that, following the takeover of Sanctuary Records, it now seems that the album will not be released as previously suggested. This is obviously a bitter disappointment, but it's probably not a permanent setback. Still, we've all been waiting the best part of thirty years, so I'm sure we can wait a few weeks or months more.
If you have already ordered a copy of the album though this site, please note that Amazon's policy says "we do not debit any money from your account until just before the order is dispatched".
Update: Amazon have sent out an email to the people who had ordered the product, and it seems that early 2008 is the new date...

Dear Customer,

We wanted to give you an update on the status of your order.

Unfortunately, the release date for the item(s) listed below was changed by the supplier, and we
need to provide you with a new estimated delivery date based on the new release date:

 Smirks (Artist) "Smirkology" [Audio CD]
   Estimated arrival date: 02/01/08 - 03/01/08

We are sorry for any inconvenience this causes.

To view your order or make any changes, please visit the Your Account
link located at the top of any page of our website. Through Your
Account, you can cancel items, change delivery addresses or make other
changes to your orders for any items that have not yet entered the
dispatch process.

For your reference, here is a summary of your order:

 1 of   Smirks (Artist) "Smirkology"

On the date of dispatch, you should receive an e-mail message confirming
the date, contents and delivery method.

Please note: This e-mail was sent from a notification-only address that
cannot accept incoming e-mail. Please do not reply to this message.

*****
WHY WAS THE DELIVERY ESTIMATE CHANGED?
While we do our best to adhere to these estimates, our inventory is constantly
changing based on information we receive directly from our suppliers.
Occasionally, unexpected fluctuations in supply or changes in release dates for
new products will add time to our original availability estimate.

*****
WHAT IF I WANT TO CHANGE OR CANCEL MY ORDER?
You can always check on your order by clicking on Your Account at the top of any
Amazon.co.uk page. Once there, choose "Open and recently dispatched orders." If
there are other items in your order, they will ship according to the delivery
estimates listed in the order details in Your Account.
Please be aware that changes to your order may result in extra shipping charges.

*****
WHAT IF AN ITEM HAS SHIPPED AND I NO LONGER WANT IT?
If your shipment arrives too late, you may either refuse delivery or return it
to us for a refund. For returns instructions, please visit our Returns Support
Centre at http://www.amazon.co.uk/gp/css/returns/homepage.html.

*****
HOW DO I CONTACT YOU ABOUT MY ORDER?
If you have more questions about this order, you can always contact Customer
Service by visiting www.amazon.co.uk/contact-us.
*****

Thank you for shopping at Amazon.co.uk, we hope to see you again.

Sincerely,

Customer Service Department
Amazon.co.uk
http://www.amazon.co.uk

Click on the Smirkology
link to see the link to the album at Amazon, and the opportunity to place an advance order.
It looks to be a very attractive package, containing all the singles, all the original songs from the album and some additional material too, some of which is unknown to me. It will be a two disc set, and the tracks are as follows:
Disc 1 (The Singles)

Streets
Angry With Myself
American Patriots
To You
Up Eh Up (Lancashire Dub)
New Music
She's Out Of Love
OK UK
I Don't Think So
Rosemary
Joe And His Mates
Pop And Roll Tea Boy
Penetration

Disc 2 (Unreleased Album, Plus Collectors' Rarities)

So Happy
Another Cliché
Too Close
Crackup No.2
Falling Out Of Love
Fool
Streets
Wasted Passion
Slow And Hazy
Julie Julie
The Devil Inside
Banking With The Bankers
Rosemary (Alt Mix) - Bonus Track
Wasted Passion (Alt Vocal) - Bonus Track
Streets (Alt Version) - Bonus Track
Easy Come, Easy Go (Live) - Bonus Track
New Music (Live) - Bonus Track
Photograph (Live) - Bonus Track
Breakdown (Live) - Bonus Track
Who's That (Live) - Bonus Track
Set Me Free (demo) - Bonus Track
This is very similar to the track listing I had for the album before. I'll update this as soon as I can, but it looks as if some of the songs have been renamed. Or it's possible that there have been some other changes. Still, it's all very exciting, even if it is almost thirty years too late.
Still, we don't seem to be getting "The Island Sea" or "Easy Come Easy Go", but just about everything else you could hope for is there, and I'm told the materially has been completely remastered and sounds better than ever. Mog told me that "The Island Sea" doesn't have the same feel as the rest of their material, but it will be released on the B-side of "To You". Meanwhile, here is a spreadsheet with more and slightly contradictory information about Smirkology.
Here is the information and music I used to have about the album:
| Side One | Side Two | Additional |
| --- | --- | --- |
| | | |
Smirkology
Taken from The unreleased Beserkley album.
Produced Laurie Latham and The Smirks except *** produced by Chaz Jankel.
Recorded at The Workhouse London, Winter 1978
Additional material
Extras recorded in Various Manchester Studios 1978-1979.
Various producers including Stuart James, Steve (jah) Foley and The Smirks
John Peel Session
Almost as legendary as "Smirkology" was the John Peel session recorded by The Smirks in April 1978. Please visit the Page to hear this short but magnificent session.
Page last updated by Ian on 30 October 2007