THE SMIRKS
Overseas
In the early days, of course, the early band spent their time busking in Paris, but once The Smirks were a famous band, they only played outside the United Kingdom twice (so far as I know).
These were at the Groningen Festival on 27 August 1978 and at the Rotterdam New Pop Festival on 10 September 1978. Both of these are in the Netherlands.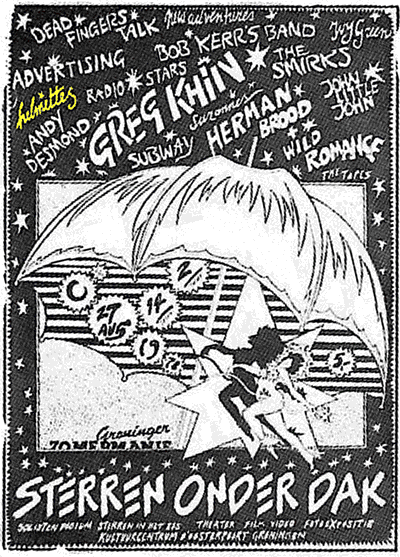 According to the poster, the line-up at Groningen (in no particular order) was Dead Fingers Talk, Ivy Green, Advertising, Bob Kerr's Band, Radio Stars, The Smirks, John Little John, Herman Brood, Subway, Andy Desmond, Wild Romance, The Tapes, The Helmettes, New Adventures, Suzannes and Greg Kihn.
It looks like there were 14 bands on 2 stages, and the cost was 5 guilders, or about £2.
At the Rotterdam concert, the Boomtown Rats and Darts were playing
Twin towns? Groningen is twinned with Newcastle-upon-Tyne, and Rotterdam is twinned with Kingston-upon-Hull.
---
Page last updated by Ian on 23 August 2007