Rough Justice
November 18th, 1978
THE CHARGE of obstruction brought against Simon Milner, lead guitarist of The Smirks, during the demonstation at the premiere of Grease which was part of the band's Rock Against Travolta (RAT) campaign, was dismissed at Bow Street magistrates' court last friday when the arresting officer failed to show.
Good news? Sure - but ...
Despite the fact that the whole episode had been a complete waste of everyone's time, the magistrates refused to award costs ("No blame can be laid at the door of the police").
The issue of costs in British court cases - highlighted last week in the Vanessa Redgrave/WRP v. The Observer libel case (and we still don't know who won that) - is becoming an increasingly exasperating one; proving one's innocence can be an expensive business.
Milner said afterwards that he was "disillusioned with British justice". The costs of his legal aid - unnecessary, as it turned out - came to over £100, and yet no prosecution evidence in the case was ever heard.
Furthermore, Milner had originally been refused legal aid (even though his income of £25 a week was sufficiently small for hm to have qualified for it) on the grounds that the case was too trivial. The authorities assumed that, innocent or not, he should just plead guilty.
There is not even any question of Beserkley (The Smirks' record company) coughing up.
They are now distrbuted by Polydor, who also lease the rights of RSO Records, the company which has perpetrated all the horrors indirectly responsible for the closing down of live venues, cretinisation of an entire generation, economic enslavement of the western world - which Milner alleges.
He hopes to be able to find the money within the next 30 days, else he could be back in court again. If you want to help, you could always buy a "Smirks Against Travolta" badge.
BOB WOFFINDEN
Obviously a great many people took his advice, and bought just such a badge, as the Better Badges chart from shortly afterwards shows...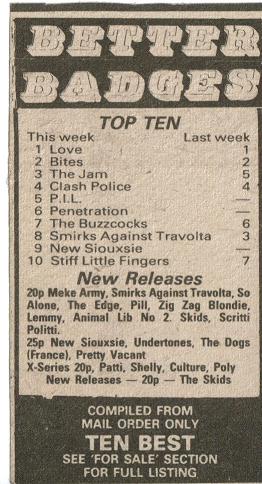 The Manchester Evening News reported:
Champions of live performances, The Smirks campaigned against Travolta because so many rock venues had changed virtually overnight into disco emporiums playing records.
The band, which played its first gig as support to a fire-eating stripper, referred to the Grease superstar as "only a million hit wonder".