THE SMIRKS
Warm Hatred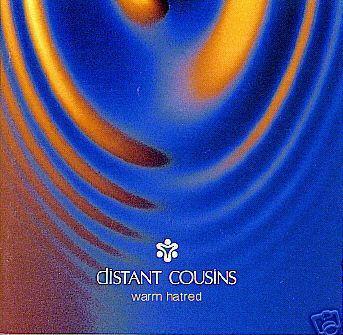 In 1992, Distant Cousins recorded their second album, "Warm Hatred". Neil Fitzpatrick played on the album and co-wrote some of the songs; Simon Milner wrote one of the songs.
Like their previous album, this one doesn't sound much like The Smirks.
Click here for lyrics from this album.
The album was recorded at Chateau de la Rouge Motte in Normandy, though the last track came from Abbey Road Studios in London.
There were a lot of people involved in the album. Obviously not everyone took part in every song:
Gary Culshaw, bass guitar
Steve Hopkins, keyboards
Curtis Schwartz, additonal keyboards
Yvonne Shelton, Sarah Jane Morris, Andrew Williams, backing vocals
Martin Ditchum, percussion
Gary Barnacle, flute and saxophone
Clive Mellor, harmonica
Peter Durkin, Jack Emblo, accordion
A J Trundle, fiddle
WARM HATRED
My Brother (Edwards/Fitzpatrick)
Sharpen The Blade (Edwards)
The Only Way (Milner)
All I Need (Edwards/Fitzpatrick)
Let Me Be The One (Edwards/Fitzpatrick)
Did I? (Edwards/Fitzpatrick)
Every Little Beat (Edwards/Fitzpatrick)
Would You? (Edwards)
Good Friend (Edwards/Fitzpatrick/Snuff)
Warm Hatred (Edwards/Fitzpatrick)
You Used To (Edwards/Fitzpatrick)
Back to Distant Cousins main page
Page last updated by Ian on 20 May 2008